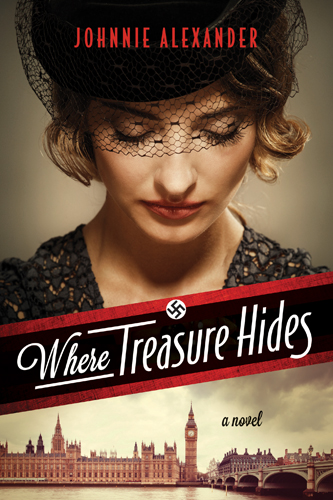 Where Treasures Hide
Johnnie Alexander
Artist Alison Schuyler spends her time working in her family's renowned art gallery, determined to avoid the curse that has followed the Schuyler clan from the Netherlands to America and back again. She's certain that true love will only lead to tragedy—that is, until a chance meeting at Waterloo station brings Ian Devlin into her life.
Drawn to the bold and compassionate British Army captain, Alison begins to question her fear of love as World War II breaks out, separating the two and drawing each into their own battles. While Ian fights for freedom on the battlefield, Alison works with the Dutch Underground to find a safe haven for Jewish children and priceless pieces of art alike. But safety is a luxury war does not allow.
With the relatively recent release and promotion of The Monument's Men, interest in Nazi art thievery during World War Two has gone way up. This book isn't so much about American involvement in the war or about Jewish suffering, which tend to be the two things that World War Two fiction focus on, but instead about Dutch Europeans who had to deal with Nazis in power before the war started. The focus is on the art, and the smuggling and preservation of it.
The love story between Alison and Ian is absolutely adorable! The relationship has a element of realism that a lot of romance oriented stories lack. Because the book takes place over the course of six years (1939-1945 ish) we get to see a more realistic time line for feelings to manifest as actual promises to one another. With the six years being covered there are quite a few time jumps. All the time jumps are surrounded by great context and detail, so we don't feel left out.
I absolutely adored reading this book! I sped through the pages because it was just so important that I knew the ending. And now that I do, I have decided that a sequel is totally in order. Happy Reading! Don't forget to click on the cover to read an excerpt!
If/When you finish the book, leave a comment or shoot me an e-mail and we can talk about it! I love to hear what everyone else thinks too!
I received a copy of this book from the publisher in exchange for my honest review.