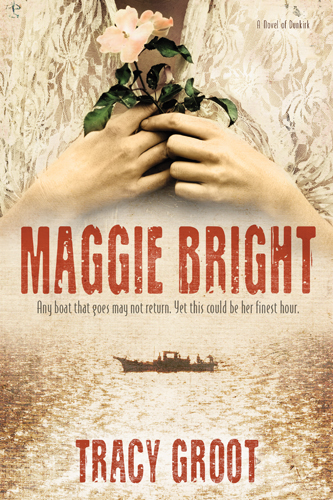 Maggie Bright
Tracy Groot
England, 1940
. Clare Childs knew life would change when she unexpectedly inherited the
Maggie Bright
—a noble fifty-two-foot yacht. In fact, she's counting on it. But the boat harbors secrets. When a stranger arrives, searching for documents hidden onboard, Clare is pulled into a Scotland Yard investigation that could shed light on Hitler's darkest schemes and prompt America to action.
Across the Channel, Hitler's
Blitzkrieg
has the entire British army in retreat with little hope for rescue at the shallow beaches of Dunkirk. With time running out, Churchill recruits civilian watercraft to help. Hitler is attacking from land, air, and sea, and any boat that goes might not return. Yet Clare knows
Maggie Bright
must answer the call—piloted by an American who has refused to join the war effort until now and a detective with a very personal motive for exposing the truth.
The fate of the war hinges on this rescue. While two men join the desperate fight, a nation prays for a miracle.
Maggie Bright is an absolutely revolutionary book. I loved it from the moment I opened to the second I finished. World War 2 period books are some of my favorites, and this one totally delivered. Instead of focusing on the time right in the middle or end of the war, it focuses on the beginning. It focuses on an event known as the Dunkirk Evacuation.
When I think of WW2 I think of concentration camps, for the Jews and the Japanese, of the Candy Bomber, Nazis, and all those itty-bitty little ships evacuating the entirety of the British army across the
Chanel
before the Nazis could get to them. This book goes into so much depth about that evacuation. But the book doesn't start at the evacuation, it builds up to it, making the evacuation so much more special.
I loved the characters, and all of the little plots that had amongst themselves. It was cute and gave me butterflies trying to figure it out all at the same time. I cannot say enough good things about this book. It was wonderful and I will treasure it.
Warnings. It is a story about World War 2. There are some semi-graphic explanations of violence and injuries. An adult could handle it with no problem, a child could not. Honestly, those moments (thankfully rather few) horrified me and made me cry. Looking back though I only remember a sense of wonder and peace reading it.
I received a copy of this book from the publisher in exchange for my honest review. Enjoy Reading! Don't forget to click on the cover to read an excerpt.