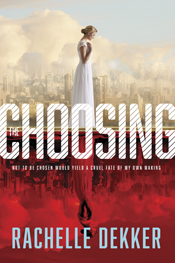 Seer Novels
Like all citizens since the Ruining, Carrington Hale knows the importance of this day. But she never expected the moment she'd spent a lifetime preparing for—her Choosing ceremony—would end in disaster. Ripped from her family, she'll spend her days serving as a Lint, the lowest level of society. She knows it's her duty to follow the true way of the Authority.
But as Carrington begins this nightmare, rumors of rebellion rattle her beliefs. The whispers contradict everything she's been told; yet they resonate deep within.
Then Carrington is offered an unprecedented chance at the life she's always dreamed of, but she can't shake the feeling that it may be an illusion. With a killer targeting Lints and corruption threatening the highest levels of the Authority, Carrington must uncover the truth before it destroys her.
The Choosing
was a really interesting take on a Christian Dystopia. Religious zealots and the misinterpretation of the Bible, as well as false witness, is something that we already see. Taking a look through history it isn't like it hasn't happened before, and that was what made The Choosing an incredibly spine chilling read. Aside from being spine chilling it was also really fast paced. There wasn't a moment into the book where I could tolerate being away from what was going on for any real period of time. It was Amazing!
Because it is dystopian fiction there are a few things that you need to watch out for. Rachelle Dekker has a gift to completely gross you out in a really short passage. She didn't spend any real time on the gross stuff. Compared to the length of the book, but man did they stick with you. There is definitely a minimum age of this book. Anyone who has played. Violent video game, watched a crime tv show, or read any other
Dystopian fiction will totally be able to handle it.
About the layout of the book: the chapters begin with a large number embedded in the text (like Those books where the very first letter of a new chapter is capitalized) which makes the first one really confusing because you want to think of it as an "I" when it is in fact a 1; flashbacks into Carrington's life are in italics; and the background on how this particular society came to be in enclosed within five darker colored page sections called Histories (which are really cool).
I absolutely cannot wait to read the second book! I have no doubt that it will be just as wonderful as the first.
I received a copy of this book from the publisher in exchange for my honest review. Enjoy reading!
Don't forget to click on the cover to read an excerpt.