Think 4:8
Tommy Newberry and Lyn Smith
The best-selling author of
The 4:8 Principle
and
40 Days to a Joy-filled Life
returns with a special edition for teens.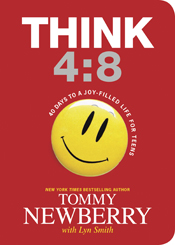 In just 40 days, teens can change their minds and their attitudes. Tommy Newberry, together with writer Lyn Smith, takes teens from thinking negatively to thinking positively, which will change their entire outlook on life. Not only will this devotional make teens think more positively and have a better attitude, this devotional also points teens to Scripture and helps them understand more about God. The devotions not only help teens understand how their thought life determines their perspective, but they also help them focus their minds on godly truths so they can live out their faith.
This book is the perfect way for teens to get a new attitude and start living a fulfilling, joy-filled life in just 40 days.
Focus on the Good Stuff!
Your mind is a powerful tool. What you choose to think about and focus on today can impact the rest of your life. So take forty days to get your thoughts rolling in the right direction—to help you reach your goals and live the successful, purposeful life God has planned just for you. When you follow this forty-day game plan, you will start erasing weak, unhelpful thoughts and replacing them with strong, productive thoughts.
Fix your thoughts on what is true and good and right. Think about things that are pure and lovely, and dwell on the fine, good things in others. Think about all you can praise God for and be glad about. Philippians 4:8 (The Living Bible)
I picked this devotional because I loved the cover and what it stood for. I find that living a joy filled life is something that most people seem to neglect, sure they're happy but they miss that deep inner fulfillment. Each day has a new story piece to go with it, nonfiction about the authors' life. Each section is followed by a speaking bit, a bit for the day, a chance to write about what that day is talking about and instructions on how to share it with someone to keep you honest. I found that this devotional gave me the understanding I needed to experience joy on a daily basis.
You can access four free chapters (days that is) right here:
http://www.think48.com/wp-content/uploads/2013/08/Think-4-8-Sneak-Peek.pdf